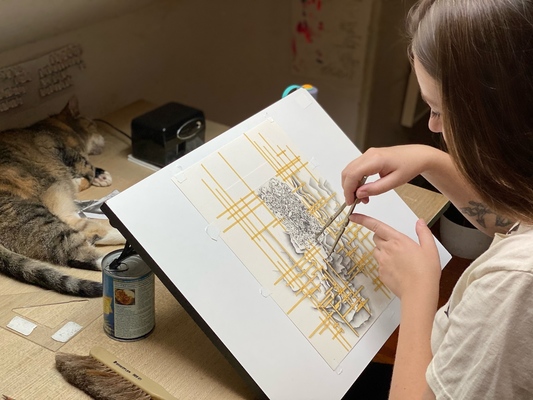 My current work,
After the Disaster
, focuses on the strength and fragility of the natural world. Pieces in
After the Disaster
are small in scale and completed in graphite or colored pencil on paper. The intimate works invite close viewing that reveals miniature worlds, illuminating the connection between the microscopic and macroscopic. Delicately rendered through a labor-intensive process, my compositions are meditations on time and inner projections of both the disasters and triumphs of imagined land and mind scapes – personal, cultural and ecological in scope. The drawings are created from a practice that combines projection, stencil and improvisation along with perceptual observation.
This series follows a prior body of work,
Polymorphic Disasters of the Mind
, which developed out of my observations of the aftermath of Hurricane Irene, 2011, on a stretch of endangered watershed along the Hackensack River in northern New Jersey that I have studied for many years. The subject of disaster and its ruins became a metaphor for the anxiety of our economic and ecological decline.
After the Disaster
imagines worlds born out of the rubble and takes on a nonhuman perspective considering a time after our own. This isn't a dark or pessimistic place, it just is. The works ruminate on the possibilities of the unfamiliar. The world is much more than what we have begun to know.